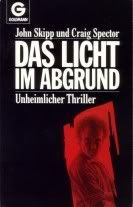 It's official, though details remain sketchy: this little stint of moving back and forth between the evenings and overnights is over --
muerto
-- by the end of April, and I'll be moving to the evenings on a full-time basis. That means much less bitching about how tired I am and much more bitching about being here while the Thrashers are playing (for a bit, at least) or being here while the bars are open and presumably filled with beautiful young women (after the Thrashers are bounced). But, really, future bitching aside, this is only a good thing. After this past weekend's unwilling experiment with sleep deprivation, something had to give ... and it could have been my
sanity
.
Of course, not like I've been going to Thrashers games even when I can lately. I did catch a good portion of this one tonight (4-2 over the Islanders), and they seemed pretty good -- though if they surrendered enough shots that Lehtonen got a star choice after giving up two goals, maybe they weren't so hot. I saw enough of Hossa, though, to mumble to myself, again, that he's the best thing ever to happen to the city of Atlanta and the sport of ice hockey. Really, I may have to get a tattoo.
And in minor league news: apparently PPA player-of-the-year-now-and-forever Tomáš Klouček is doing ok and will be back with the Chicago Wolves for the playoffs. At least, he's on the Wolves' playoff roster. Their website is crappily assembled enough that there's not really any news on it (they've yet to address Klouček's injury, and if you click on "featured news" you get something from 2/11/06), and since the Chicago newspapers cover the Wolves even less than they do the Blackhawks, one has to turn to sketchy message boards to get news about Tomáš. Or here, I guess, once I've scoured the sites.
* * *
Moving right along (and presumably having lost three-fourths of my audience -- if you've made it this far, I'll buy you a beer), I'm still knee-deep in the life of
Graham Greene
. I've hit the part where he travels through then-undocumented inland Liberia, the trip that would ultimately become
"Journey Without Maps,"
and it's got me restless again. I was oddly disappointed when I read the book (as a sort of warmup to my trip to
Albania
), but reading this second-hand account of it, with the immediacy of diary entries and lacking the polish of the book, gives me the sense of excitement and fear that the book sometimes lacked. And, as I plan future trips (it's looking pretty firmly like SE Asia, now, once I hear back from my uncle, and possibly either Poland or Russia later in the year), really drives it home: you can't travel like this any more. There's certainly a few places that are largely unexplored by contemporary Westerners, but the Hindu Kush or the jungles of the Congo really don't hold much appeal in current times.
* * *
Finally, some overdue thanks and acknowledgements; a few people have actually linked to this still-fledgling site, so
děkuji
to them.
Sid,
as previously stated, was one of the long-term inspirations for this lil' blog, and he's started writing again too.
Fredoluv
was another of the first people I knew to start up a blog, and once he starts blogging about Dick Tarnstrom some more, it'll be even better.
Afshin
has been mentioned on these pages before, and you should buy his book, and also check out his Amazon thingy (my palsied brain can't figure out how to link to that -- there's a link on his first page).
Sidearm Delivery
is one of my favorite hockey blogs, and one of the only places to find true quality AHL coverage -- if he had a clone in Chicago, we wouldn't have my Klouček troubles. And, finally, I discovered
Indiscretions
through comments on Afshin's thing -- it's good fun and smart fun. So, thanks, all y'all. On that note, off to the bars!